Visit Zakynthos neighboring island.
Zakynthos Guide
Our Guide
Day trip from Zakynthos to Kefalonia
01/07/2022
Discover Kefalonia island.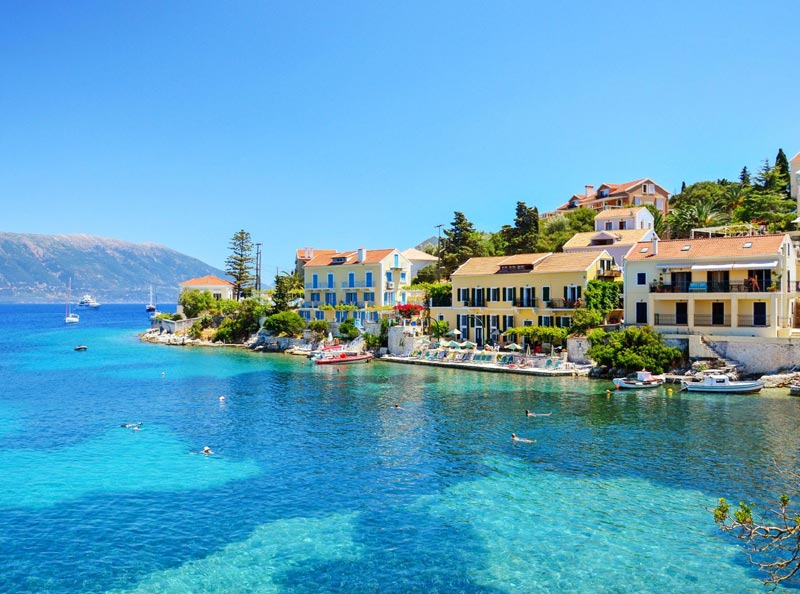 If you want to do a day trip from Zakynthos you can visit our neighbour island of Kefalonia, we will suggest you the best places that you need to visit. Kefalonia is a wonderful island with a wide range of attractions. Beautiful beaches with golden sand may be found on one side of the island, while white pebble beaches abound on the other. This island has the most untamed terrain but is also covered with magnificent pine trees that frame every road.
Here you will find some important information for your trip about the most visible places in Kefalonia:
1. The island's capital is Argostoli. As you hang around in the bustling main square with the locals—the majority of whom are night owls and have done more than anything to contribute to Kefalonia's reputation for fun—you start to warm up to its quirky appeal. Argostoli is a bustling, modern town where locals love to enjoy the shops, restaurants, and taverns, especially in the summer. Greek locals can be seen in Argostoli strolling with tourists along the pedestrianized street, enjoying a coffee in one of the neighborhood "cafeterias," or partaking in a traditional Greek meal. We advise you not to miss a stroll along the Lithostrato or the harbor of Argostoli while you're on vacation on the island of Kefalonia.
2. One of Kefalonia's most stunning—and well-liked—areas is the ancient harbor village of Fiskardo. Its location at the island's northernmost point makes it without a doubt one of the highlights of any visit to this exceptional Greek island. Due to its natural harbor, Fiskardo is one of the Ionian's most well-liked destinations for visiting yachts. Thanks to the wealthy and famous who stop by on the megayachts, its winding shoreline is lined with luxury boats, upscale seafood restaurants, and some of the most expensive real estate in all of Greece.
3. The village of Assos is a small and endearing place. The natural beauty of Assos is made up of the classic buildings, the serene surroundings, and the pebbly beaches. Assos, which is situated amphitheatrically around a peninsula, has amazing natural beauty, making the hamlet the perfect location for a romantic or relaxing getaway. As you enter the hamlet, you come to a tiny plaza with historic homes and a number of charming traditional Greek eateries. Although the local beach is little, the water is incredibly pure. A semicircular intersection with the old fort's road may be found to the left of the settlement and is approached by ascending steep serpentines. There are two tiny beaches in the settlement, which is relatively small. One of them is closer to the village's core.
4. At 1.615 meters (5,298 feet) above sea level, Ainos Oros is a tall mountain peak that rises in Kephalonia, one of the Greek Ionian Islands. Since 1962, it has been a national park, and it is well-known for its abundance of wild flowers. Equus cabalus, a unique breed of pony, calls it home as well. Greek fir and black pine can be found growing throughout the majority of the mountain range, which is classified as a National Park area. Pine forests can be found between 700 and 1200 meters above sea level. Its forest is home to semi-wild ponies. On clear days, the vista spans the NW Peloponnese, Aetolia, Zakynthos, Lefkada, and Ithaca islands.
---