Zakynthos most visitable church
Zakynthos Guide
Our Guide
The patron Saint of Zakynthos
01/09/2022
Don't miss the Saint Dennis Festival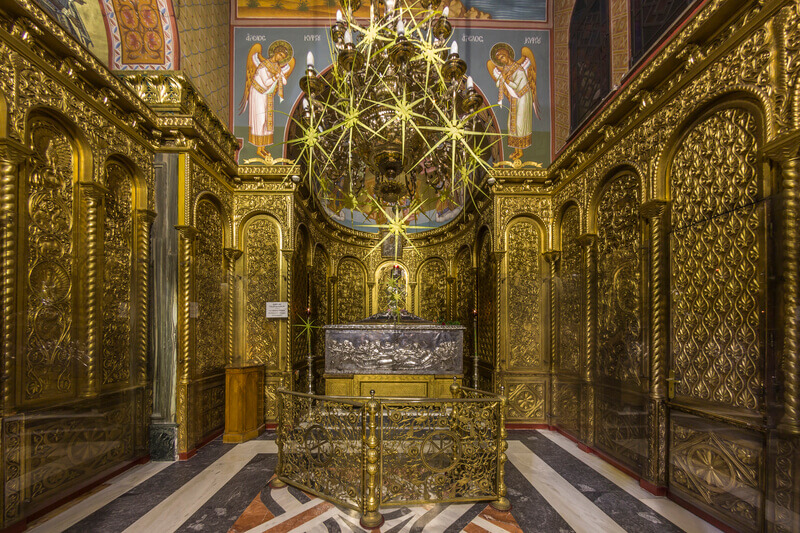 The lovely island of Zakynthos is protected by Agios Dionysos. His feast day is observed twice a year. On December 17, his death anniversary, and August 24, when his remains were brought back to the island, there were celebrations.
Agios Dionysios was born in Zakynthos in 1547, his rich parents made sure their son had a complete education. Italian, Latin, ancient Greek, and Greek. His area of expertise was theology. When his parents passed away when he was 20 years old, he left his entire inheritance to his brother and went on to become a monk on the tiny island of Strofades, which is south of Zakynthos. He was appointed archbishop of the island of Aegina in 1577, but due to health issues, he resigned after just two years. He then went back to the island and to Anafonitria to take up the position of abbot.
One wet night, a man came to the monastery seeking assistance. The man had just killed someone, which was a terrible act. Dionysios discovered the identity of the man he had killed via his inquiries. It was actually his brother. The man in front of him was being sought after by the deceased man's family. Being the kind of man he was, Dionysios shielded the killer and assisted in his flight to the nearby island of Kefalonia. directing the cops when they arrived in the opposite direction. Later, the man went back to Zakynthos and joined the same monastery as a monk.
People frequently sought Dionysios' counsel or begged him for pardon for wrongdoing. At the age of 75, he passed away on December 17th, 1622, and requested to be interred on the island of Strofades. His body was discovered three years later, and his remains were brought back to Zakynthos. In Zakynthos town's large church bearing his name, he is still accessible. In 1703, he attained sainthood.
Agios Dionysios is still revered by the Zakynthian people today, and it is thought that he roams the island guarding the devoted. So much so that his worn-out slippers need to be replaced every year! The brand-new slippers are housed in his Anafonitria convent. As "filakta" protection, the worn-out slippers are broken up when removed and given to the merciful.
There are church celebrations with the troops and nobles every summer for 5 days over his feast day. Along with the well-known St. Dionysios Bazaar. There are booths set up with toys, books, clothes, food, and other items, and there is a festive mood in the air. The entire island congregates in the city on August 24th evening to participate in the festivities. The town parades Agios Dionysios's remains around.
Don't miss the nighttime festivities in Zakynthos town if you ever visit Zakynthos during the time of his feast day.
---