Navagio or shipwreck beach history
Zakynthos Guide
Our Guide
The world famous beach Navagio in Zakynthos island
27/09/2022
Navagio Beach was formerly known as Agios Georgios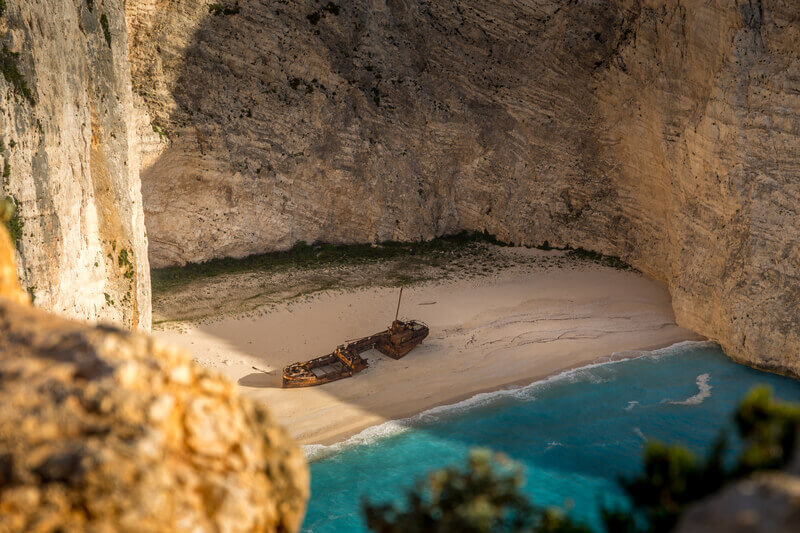 Every summer thousands of people visit Zakynthos Island to see the world famous beach of Navagio as all knows or the shipwreck beach. In this bog we will uncover the story behind the famous ship.
Beautiful island Zakynthos is located off the western coast of Greece. The Venetians, who ruled Zakynthos from 1484 to 1797, gave it the moniker "the flower of the Levant" and it is now the third-largest island in the Ionian Sea. And it's simple to understand why, given that the island is extraordinarily rich and lush and is home to over 7,000 different varieties of flowers. Zakynthos has a remarkably varied terrain, with lush valleys, sandy beaches, and rocky cliffs. Its most well-known natural feature is Navagio, or Shipwreck Beach, which many people regard as Greece's most famous beach. Even more than the Acropolis and the Parthenon, several travel guides claim that Shipwreck Beach is the Greek location that has been photographed the most.
Navagio Beach was formerly known as Agios Georgios. The story is told by the ghost of the Panagiotis, a smuggling ship that ran aground here in 1980. The Panagiotis was being pursued by the Greek navy because it was thought to be transporting contraband cigarettes to Italy. The details are unclear and might never be made public. A marine police officer found the ship on October 5th, 1980, with roughly 2000 packs of cigarettes and 30 million greek money then on board. Due to the terrible weather, the ship entered the ocean but was unable to exit. The crew dispersed, leaving the ship to drift ashore where she is now. The lovely Navagio Beach is still visible even without the Panagiotis shell. The suspense is only increased by the shipwreck. The beach is surrounded by vast limestone cliffs, some of which rise 200 meters above the ground, and crystal-clear water. Sailboats docked nearby the coast complete the spectacle. It's necessary to sign up for one of the numerous trips or rent your own boat if you want to get a close-up look at the wreck, but it's a stunning scene that is well worth the small trouble it causes to get there.
If you like, you can visit Navagio Beach without touching the sand. The best views are really from a vantage point on the limestone cliffs 200 meters above the wreckage, looking down towards the beach. You'll get wonderful photo opportunities and see something unforgettable there. Additionally, the beach won't feel as crowded because there won't be as many visitors. One can get to this vista by driving. Smugglers Cove is a must-see when in Zakynthos, regardless of your point of view. In a network of hundreds of islands, with each having a unique selling point, this island might have the biggest "wow" factor.
---